• Link to Us
• Webmaster
• Testimonials
• Add to bookmarks
TOURS

. ROME IN 1 DAY
. ROME IN 2 DAYS
. VATICAN MUSEUMS
. St. PETER BASILICA
. PAPAL BLESSING
. ROME CRUISE TOUR
. IMPERIAL ROME
. ROME FOUNTAINS
. CATACOMBS
. SEVEN HILLS
. ROME BY NIGHT
. TIVOLI
. CERVETERI
. ANCIENT OSTIA
. ROMAN CASTLES
Mariuccia
Category: Bed and Breakfast
Region: Piemonte Province: Novara City: Massino Visconti District: Centro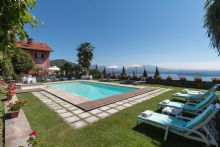 "Bed & Breakfast Mariuccia is an ancient house built in 1400 from the Visconti family as lordly residence of the Castel near the structure.

Located in the centre of the old village Massino Visconti, the house recently restored from the owners keeping the original characteristics.

The B&B offers accommodation in double and twin bedrooms, all distributed in separate Suites, which are provided with living room, and en-suite bathroom with shower or bathtube.

Bed & Breakfast Mariuccia is surrounded by a big garden where there is an age-old Magnolia and two big Camellias.

The Wisteria shades the deck-chairs of the pool, which is at disposal of the guests.

A rich breakfast is served by the swimming pool, where a splendid view on the three lakes can be enjoyed, or beneath one of the charming porticoes.
Children Bed (€ 20,00), Cradle (€ 20,00), Internet Point, Newspapers and Magazines, Baby Sitting, Extra Cleaning
Heating, Reading/Relax Room, No smoking, Car Park, Tourist Office, Booking Service, Alarm Service, Pets NOT Allowed, Highchair, Breakfast Room, Kitchen use, Fridge use, Outdoor Swimming Pool, Beach Towel, Garden, Fireplace, Ironing Facilities, Dish Washer, Washing Machine
Prices

Per Night

Per Week

minimum

maximum

minimum

maximum

Double Room - 1 Double Bed


€ 100

€ 120

€ 700

€ 840